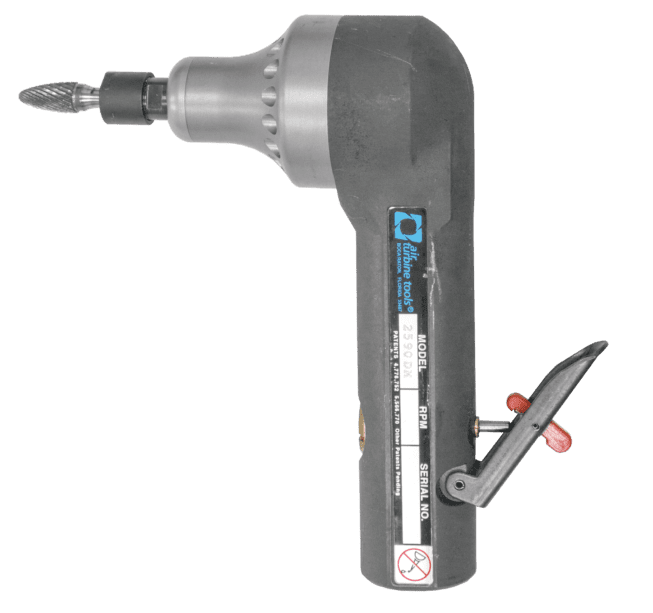 2590DM
Angle Hand Tool Series
1/4" / 6mm Capacity
The patented 90° 2590DM angle tool with trigger switch control and front exhaust is designed with the turbine in its angle head and no gears. This design results in lightweight with no heat and low vibration. Excellent for deburring and finishing. The high rotational speed is maintained by our patented governed turbines so you simply guide the 2590DM letting speed do the work with just a light hand. Just 2 moving parts in this tool for super reliability and the 2590DM is both maintenance-free and totally oil-free. Select governed 30,000 or 40,000 rpm.
2590DM Specifications
Speed RPM
30,000
40,000
Power Rating hp (kW)
0.4 (0.30)
0.45 (0.34)
Inlet Air Pressure
90 PSI (6.2 Bar)
Air Consumption Idle cfm (l/s)
10 (4.72)
13 (6.14)
Air Consumption Working Flow cfm (l/s)
11 (5.19) - 20 (9.44)
Sound Level
Less Than 67 dBA
Max Shank Capacity
1/4" (6mm)
Hand Tool Weight
20oz (0.56kg)
2590DM Dimensions
A
0.86" (21.84mm)
D
1.37" (34.80mm)
B
1.00" (25.40mm)
E
4.00" (101.60mm)
C
2.90" (73.66mm)
F
6.49" (164.85mm)
Hand Tool, 1/4" or optional 6mm collet, collet wrenches, front exhaust. Trigger switch and 1/4" NPT air supply fitting. Oil-free 90 psi / 6.2 bar, clean, dry air supply required.
| Accessories Models | Part # |
| --- | --- |
| High Flow Filter | 30004 |
| High Flow Filter / Regulator | 30003 |
| High Flow Filter / Regulator / Extractor | 30008 |
| 5' Air Supply Assembly w/Fitting for DM Models | 30010 |
| 8' Air Supply Assembly w/Fitting for DM Models | 30011 |
2590DM Vibration Statistics
Time to reach EAV 2.5 m/s² A(8)
64 hours, 11 minutes
Time to reach ELV 5 m/s² A(8)
256 hours, 41 minutes
Vibration magnitude m/s² r.m.s
0.88
1/4″
6mm
Speed RPM
Part #
Speed RPM
Part #
30,000
35834
30,000
35835
40,000
35844
40,000
35845