How does Air Turbine Motors® Patented Technology Help You?
High Speed Motors for Robots, Lathes and Automation
Air Turbine Motors® are different. Our motors are governed by maintaining high speed in cut at 25,000 rpm to 90,000 rpm with power up to 1.4 HP (1.04Kw). With no duty cycle you can work 24/7.
Accelerate feed rates at 25,000 - 65,000 rpm Power to 1.40 hp
No Control System Required
High-frequency brushes in electric motors, friction in both vane motors and geared motors create heat result in frequent burn-out, necessitating frequent repairs. Electrical motors require an expensive control box and wiring. Replace old technologies with Air Turbine Motors® which generate no heat. Our turbines eliminate the need for a control system and lubrication. Our motors are oil-free and maintenance-free, just requiring dry air pressure at 90 psi (6.2 bar).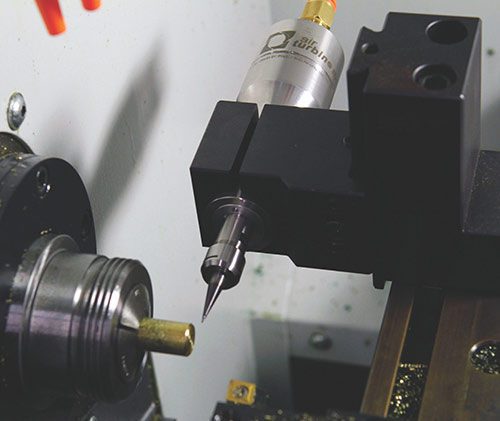 Motor Series
View our selection of motors that accelerate feed rates in robotic cutting, automated finishing, milling, drilling, automation and lathe applications with Air Turbine Motors®.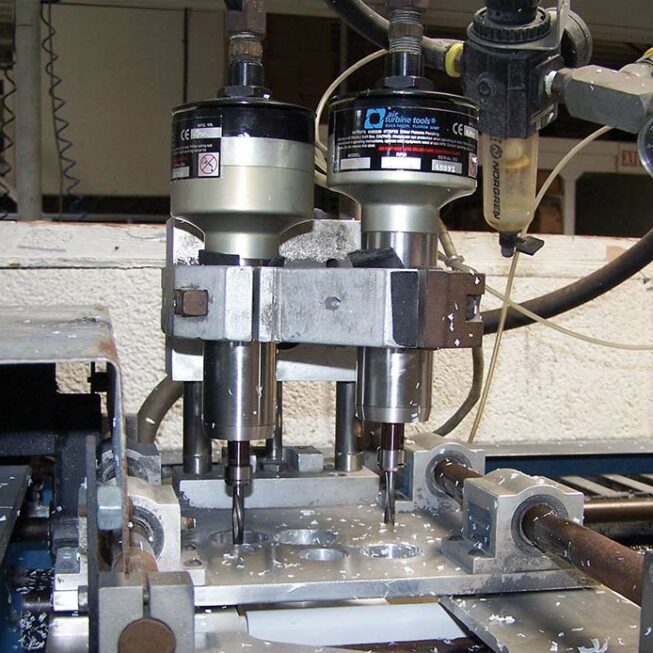 Technical Advantages
Air Turbine Motors® operates 24/7 at high-speed with no duty cycle, and improved surface quality. No control system is required. Increase your automation, robotic & lathe productivity at high speed with power to 1.4 HP (1.04 kW).
Air Turbine Motors® Accelerate Production in Robotic & Automated Processes
Air Motors are used in all types of Lathes, Sliding Head Stock Lathes, Swiss Lathes and Multi-Spindle Lathes and in automated rubber drilling and plastic drilling and trimming applications. Easily mounted on robot arms our light powerful motors mill and debur faster and cleaner.…
Robotics and Industrial Automation
Air Turbine Tools® pneumatic motors operate at governed 25,000 – 90,000 rpm with power up to 1.4 HP (1.04Kw).
Air Turbine Motors® integrates into automated production assemblies and deburring robots for high-speed material removal, as well as routing and automated finishing. Our compliant deburring tools make automated deburring and robotic deburring fast, clean, quiet and economical. Make these motor mounts your automated & robotic cutting & deburring solutions!
Applications include automated deburring, automated finishing, automated cutting, compliant robotic deburring, material removal applications and more. Use these material removal tools for finishing and deburring parts, contouring, profiling, drilling, buffing, polishing, deburring metal, deburr equipment, part cleaning, engraving, routing wood, deburring steel, deburring edges, deflashing, edge-breaking, surface finishing, edge profiling, weld removal, routing or milling composites, cutting composites, flash removal, radius/chamfer applications, deburring plastic, cutting fiberglass and more!
Air Turbine Motors® also integrates into radially compliant deburring robots allowing our pneumatic deburring tools to follow the part profile and compensate for surface irregularities, part positioning, and robot repeatability. The deburring robot maintains a constant force that can be controlled and adjusted. When integrated into machining robots such a Fanuc, ABB, KUKA, Universal Robots, RobotMaster, Comau, Kawasaki, Acme, Toshiba, etc our automated deburring solutions allow high feed rates and superior finish.
Air Turbine Motors® are proven automated and robotic finishing solutions!
Lathes and Swiss-Type Lathes
Air Turbine Motors® and Live Tools integrate into many types of lathe machines enabling you to operate your lathe or swiss type machine at 30,000 rpm to 80,000 rpm.
This powerful patented motor range incorporates our patented governor, which maintains your rated speed in the cut. Air Turbine Motors® are low friction direct drives with only 2 moving parts resulting in no heat, precision and great reliability for high speed turning, trimming and milling.
Your deburring machine and automated processes will operate 24/7 as our turbine motors operate with no duty cycle.
High-speed machining increases your lathe productivity enabling you to make more parts and decrease your production time. Sliding headstock lathes, swiss-type lathes and many different types of lathe machine operate 7 days a week under enormous cost and time pressure. Economic production success depends on the speed and reliability of motor drive, but the outdated motor technology has restricted productivity and resulted in high costs. The 800LT and 800CYL operates 24/7 at 60,000/80,000 rpm accelerating your lathe machine's production rate. Medical, aviation, and metalworking industries will increase productivity by dropping Air Turbine Motors compact lathe series motors into many types of Lathe machines.
Just connect 90 PSI, 6.2 Bar dry clean air supply, and mill on all types of lathe machines. No control system, no lubricator, no gears or high frequency brushes to burn up.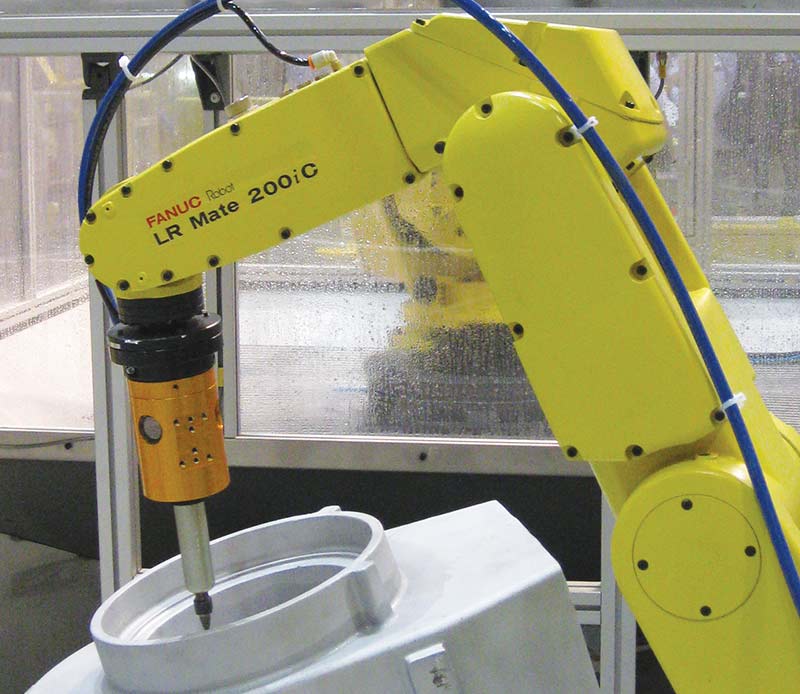 Service & Support
Support is always available from our technical team in the USA, Germany and Mexico. Repair Service is available in Florida and Munich. Call our factory technicians at +1-561-994-0500 or email us at [email protected].