Retrofit 25,000 – 90,000 rpm With – Power to 1.40 HP (1.04 kW)
Cut cycle times by 6-10x with high speeds that don't fade in cut!
Air Turbine Spindles® patented governor increases airflow to match cutting load – maintaining rated high speed on your toolpath. Cutting tool performance to ¼" / 6mm is optimized at our high spindle speed, improving micro end mill life and surface finish quality.
Compete on the Highest Levels: Titans of CNC on Air Turbine CNC Spindles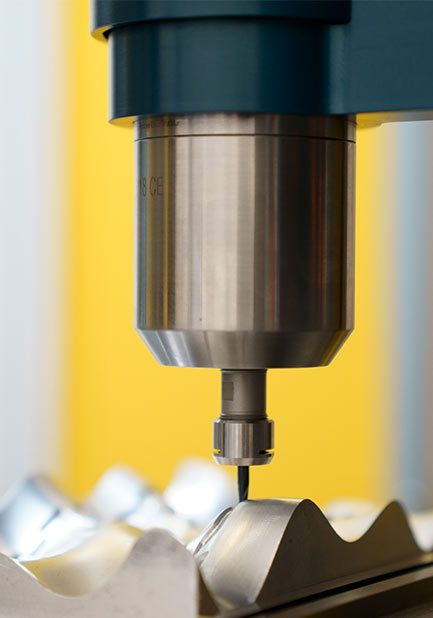 Spindle Series
Mill at constant high speed 24/7 with full ATC.
Flexible installation using selectable air inlets – side inlet NPT, Collar, and Stop Block or rear Through Spindle air feed.
Technical Advantages
Air Turbine Spindles® have only 2 moving parts – our powerful, governed patented turbine and air-cooled ceramic bearings.
This direct drive mechanism results in low friction and no heat. Resulting in no duty cycle and great durability.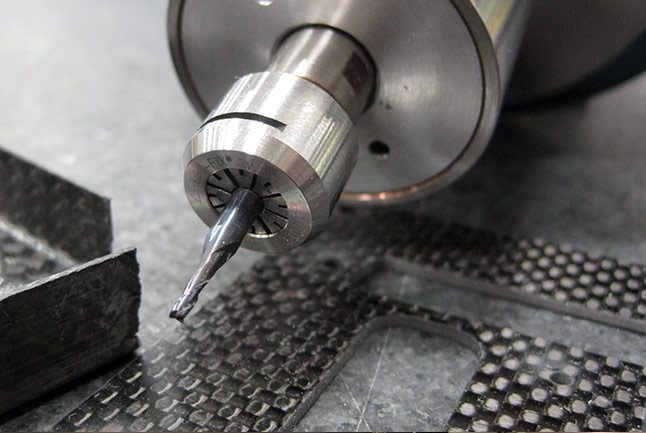 Case Studies
View examples of cycle time reductions in hard materials using Air Turbine Spindles®.
Calculate your
Cycle Time Saved
Feed and Speed rates need to be determined to optimize machining time, surface finish and tool life.
Speeds and Feeds, along with required horsepower, are calculated using the machinist's handbook and a series of formulas.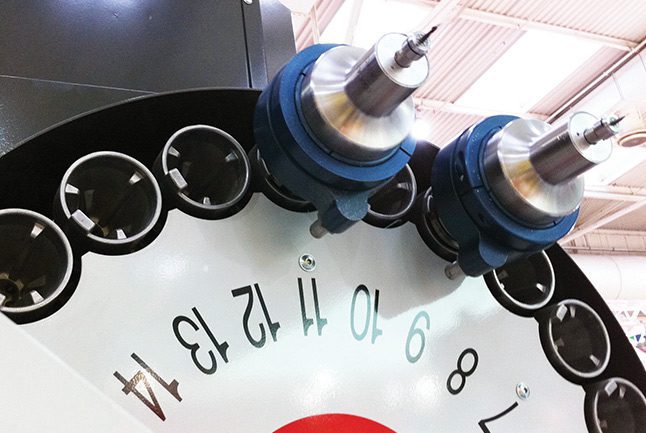 Installation Guides and Mounting Options
Get started with your Air Turbine Spindle® today. View our installation guides. If you have questions, do not hesitate to consult our technical team.
Air Turbine Tools® is Partnered with Autodesk Fusion 360
As an Air Turbine Tools® user you are eligible for a 30% discount on Autodesk Fusion 360 subscriptions. Manufacturing teams worldwide trust Fusion 360 as the solution for creating and managing their development process for product design and manufacturing.
Learn more about this special offer from our friends at Autodesk and Design and Software International.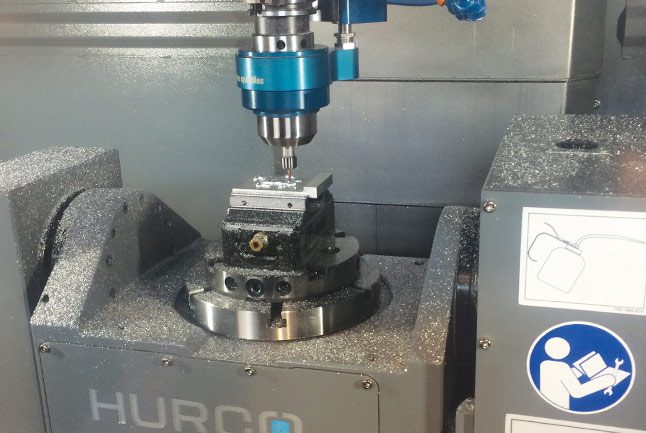 Find your CNC
We retrofit any CNC – click here to view dedicated information for our partners.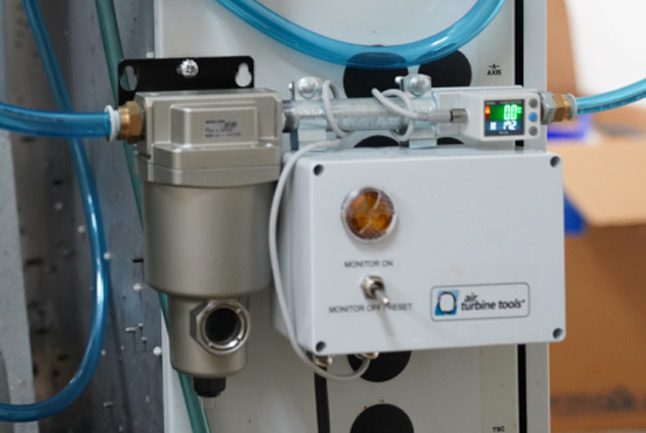 Tool Breakage Alarm System
This system gives you an alarm if your CNC spindle tool breaks or compressor malfunctions are detected by monitoring airflow variations from the baseline reading on your program. Drops in air pressure or CFM flow will damage your part in the process and the CNC spindle.
Now you can detect airflow cavitation, whether from the diversion of flow to other machines or compressor malfunctions.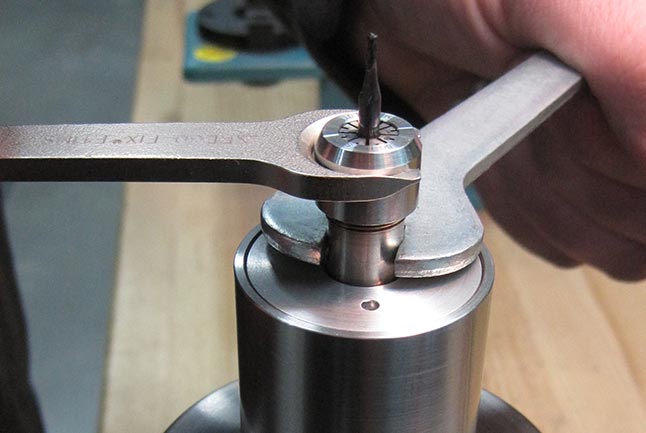 Accessories
Filters/ Extractors, Collets and more
Air Turbine Spindles® are direct drive pneumatic spindles generating no heat, resulting in no duty cycle and no thermal effect on certified 2-micron accuracy.
Are you looking for a spindle motor that will increase the productivity of your CNC machine? Air Turbine Spindles® transform CNC machines into high-speed machining centers at governed 25,000 rpm – 90,000 rpm.
Our patented high-speed CNC spindles enable you to decrease your cycle times and decrease machine time and cost per part. Spindle CNC machines with a governed controller turbine can maintain high speed, enhance tool performance, and prolong your spindle motor's life.…
Unlike spindle speeders or spindle multipliers, there are no gears, vanes or electro-brushes to heat up and burn out. Using your CNC spindle motor at high-speed results in a shorter life span and expensive repairs and downtime.
Get the most out of your CNC machine spindle. Whether you're looking for the best spindle motor for metal milling or a similar material, your CNC mill spindle should be designed to handle high speed conditions with precision.
Air Turbine Spindles® auto tool change loading from your magazine to cut in seconds on any CNC machine. Our Spindles extend the life of your machine tool spindles, prevent costly repairs and enable 24/7 production at high speed with no duty cycle.
Our powerful CNC milling spindles will not slow materially on the tool path. This saves you time and money as it enables you to free up your CNC machines to take on additional work. 
Air Turbine Spindles® is a different technology to spindle speeders.
These air power spindles load into the CNC machine like the CNC machine spindle and are available in all popular tool holders such as BT30, BT40, DIN30/40/50, CAT30/40/50, HSK 40/40/63/80/100, and JS with ¾" / 20 mm straight shank, etc. With our spindle motor, CNC machines can be retrofitted to meet your exact needs.
Use your CNC machine main spindle for milling, roughing or hogging process – then auto tool change loading Air Turbine Spindles® for detail work and finishing at high speed with cutting tools end mills below ¼" / 6mm, including miniature and micro tools. Air Turbine Spindles® systems offer an all-encompassing solution to streamline modern manufacturing.
Micro End mills and small carbide end mills love speed! High speed optimizes your micro-cutting tool life and finish. You get 2-micron accuracy and no thermal effects with Air Turbine CNC Spindles.
You will also save wear on your main CNC spindle life reducing the frequency of expensive repairs and machine downtime. Due to our direct drive with no gears, high-frequency brushes or vanes to heat up and burn out and with air–cooled ceramic bearings, Air Turbine CNC Spindles are durable. In addition, turbine air cools our ceramic bearings, increasing spindle reliability in service.
Our Spindle Series guide will assist with how to choose a spindle for your high-speed machining application.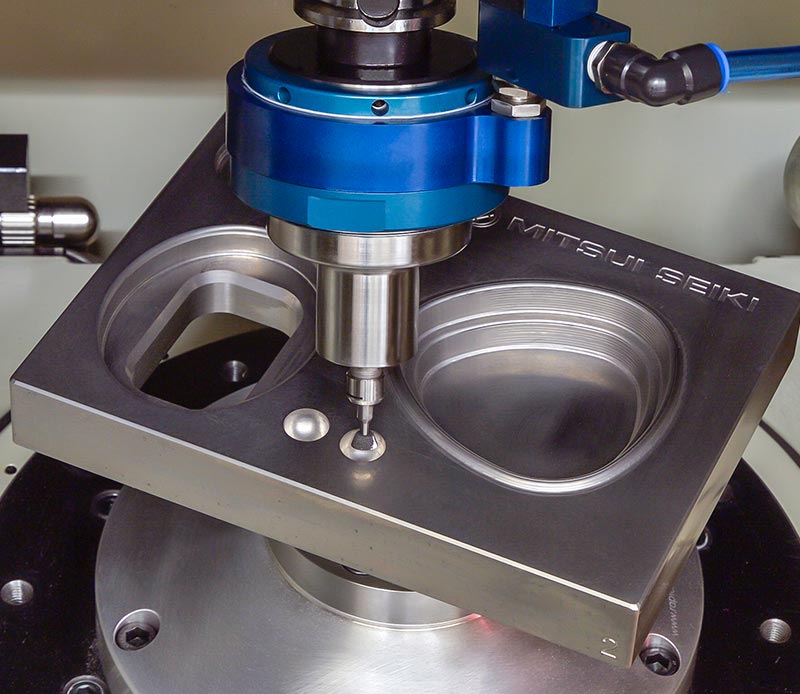 Service & Support
Support is always available from our technical team in the USA and Germany. Repair Service is available in Florida and Munich. Call our factory technicians at +1-561-994-0500 or email us at [email protected].