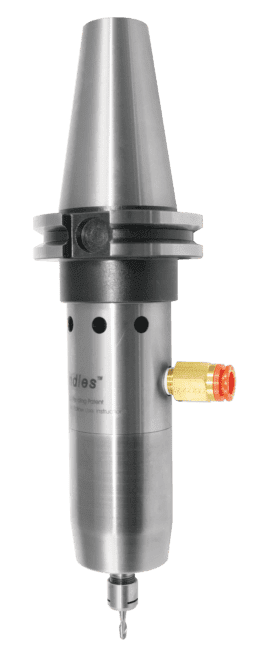 602BT30
602 CNC Spindle Series
Integration of the popular BT30 tool holder into 602 spindle housing cuts vibration and improves accuracy and rigidity. Rigid steel construction in one piece with the tool holder also cuts the height of the unit. Air Turbine Spindles® patented constant governed high-speed operation under load cuts faster and cleaner – speeding up cycle times and achieving major savings. Your solution for fast cutting with small end mills and drills, finishing or marking. High-speed cutting improves finish quality and accuracy with a fast light pass of your tool. At 40,000, 50,000, 65,000, or *90,000 rpm tool coatings achieve the required temperatures to extend endmill life-saving money as well as accelerating production. 0.2 hp (0.15 kW). No Duty Cycle.
*90,000 rpm 602 version is recommended for only special applications with micro end mills. Please call +1.561.994.0500 for more information.
602BT30 Specifications
Speed RPM
40,000
50,000
65,000
90,000
Power Rating hp (Kw)
0.15 (0.11)
0.2 (0.15)
0.2 (0.15)
.2(0.15)
Inlet Air Pressure
90 PSI (6.2 Bar)
Air Consumption Idle cfm (l/s)
4.5 (2.1)
4.5 (2.1)
4.5 (2.1)
5(2.4)
Air Consumption Working Flow (l/s)
5(2.36) - 6(3.30)
Sound Level
Less Than 78 dBA
Max Shank Capacity
ER 8-1/8"(3mm)
Spindle Weight
46.4 oz (1.32kg)
602BT30 Dimensions
602BT30 Dimensions
A
0.75" (19mm)
B
1.57" (40mm)
C
6.18" (157mm)
D
8.07" (205mm)
Equipment
Included Equipment
►
Combo Filter Extractor (p/n #30008)
►
Plug (for alternate air inlet not in use)
Standard Equipment
ER 11 collet system (1/4" or 6mm collet standard – other sizes optional). 3/4" or 20mm shank standard (Metric Shank comes with metric collet, Inch Shank with inch collet). Oil-free 90 psi / 6.2 bar, clean, dry air supply required.
| Accessories Models | Part # |
| --- | --- |
| High Flow Filter / Regulator / Extractor | 30008 |
| Tube 10mm O.D. - 6.5mm I.D. (order by foot) | 16508 |
| Hose & Fitting - 10mm O.D. - 6.5mm I.D. - 12' | 30043 |
We retrofit any CNC machine to mill at a constant high speed 24/7 – so any CNC can be a high-speed machine. This includes, but isn't limited to DMG MORI, Haas, Fanuc Robodrill, Doosan, Hermle, Hurco, GROB, Brother Okuma, Makino and Mazak. Easy installation using selectable air feed inlets – choose side inlet NPT / Stop Block or center through shank/tool holder air feed. HSK, CAT, BT, and DIN Toolholder options are available. Learn more about Air Turbine Spindles on your CNC Machine by visiting their page at the links below.
Automatically Tool Change on your CNC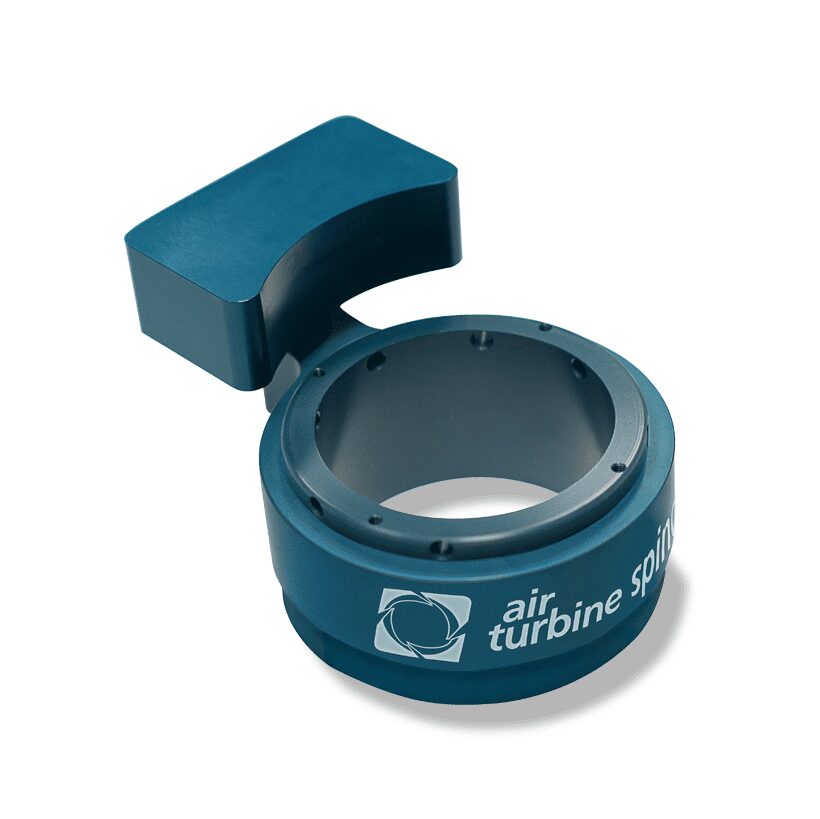 Automatically load Air Turbine Spindles® in CNC machines with our patented wrap-around Toolchanger Mounting Assembly (TMA). This option allows CNC tool-changers to automatically load/unload our family of high-speed precision spindles using a proprietary collar system and mounting block or ring around the CNC spindle integrated to the right side of the CNC spindle in minutes.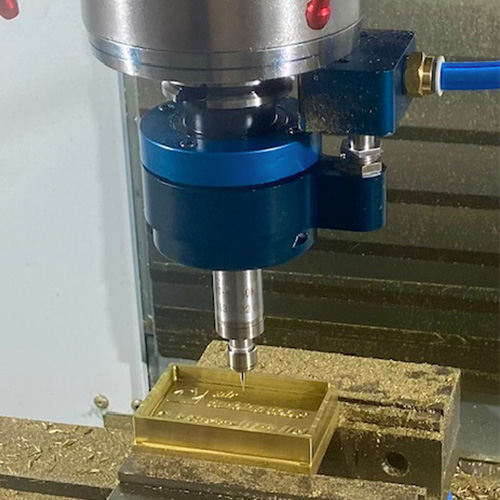 Screw In Mounting Block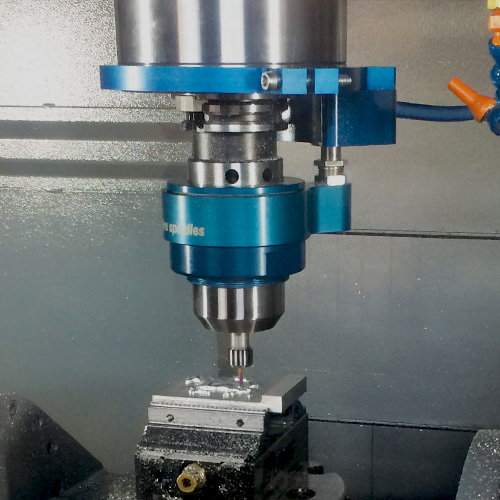 Two Piece Ring and Block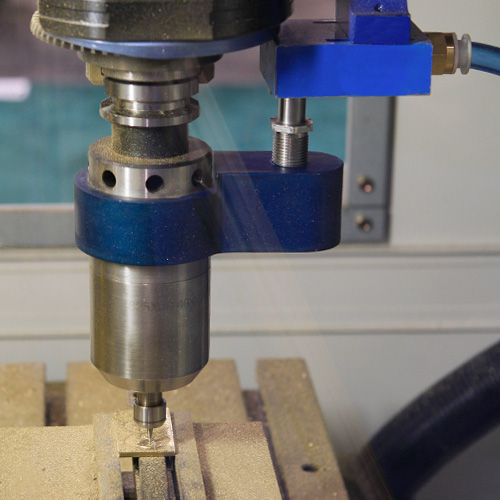 Drill Tap
Mounting blocks or rings compatible with Haas, Hurco, Doosan, Robodrill, Hardinge, DMG, Brother, Okuma, and all other CNC's are available. We are accustomed to developing custom solutions for any CNC. A Universal Block can be provided for drilling your CNC screw positions. Installation Kits are available. The TMA block remains on the CNC spindle for normal tool changes, even if not using the Air Turbine Spindles™ as it will not interfere when using the main spindle.
TMA Assembly Includes
 Mounting block or ring assembly
Spindle manifold collar with adjustable height connector to block
Auto Tool Change your Air Turbine Spindle® with the Tool Changer Mounting Assembly
ER8 - 1/8"
ER8 - 3mm
Speed RPM
Part #
Speed RPM
Part #
40,000
64290
40,000
64291
50,000
64292
50,000
64293
65,000
64294
65,000
64295
90,000
64296
90,000
64297
Videos
Brass Milling at 504"/min on Haas TM-2 by Air Turbine Spindles® 65,000 rpm 602JS
Painted Aluminum milled at 180"/min on Fadal CNC by Air Turbine Spindles® 65,000 rpm 602JS
Aluminum Engraving at 25"/min on Haas Mini Mill by Air Turbine Spindles® 65,000 rpm 602CAT40