650XVSHSK-A80
650X Switchable Speed CNC Spindle Series
Integration of the popular HSK-A80 tool holder into the 650 spindle housing delivers constant high speed with ultra-low vibration and improves accuracy and rigidity. Rigid steel construction in one piece with the tool holder also cuts the height of the unit. With Air Turbine Spindles® patented double turbine's extra power the 1.4 hp (1.04 kW) motor maintaining stable high speed and torque under load. The 650XVSHSK-A80 accelerates feed rates and cuts cycle times as a result of its low friction power unit with few moving parts.
Rated governed speeds available are 25,000 to 40,000 rpm. Plenty of power to speed up your inches cut per minute. High cutting speeds are maintained at the periphery of your end mill or burr using the 650's unique governed performance to achieve a faster cycle time, a cleaner finished surface and more production on your CNC. No Duty Cycle.
The hex key inserted through the rear of the spindle switches the position of an internal screw – controlling flow of compressed air to supply one or both turbines operating at different speeds with single or double turbine power ratings.
650XVSHSK-A80 Specifications
Speed RPM
25,000 - 40,000
Power Rating hp (Kw)
0.8 (0.60) - 1.4 (1.04)
Inlet Air Pressure
90 PSI (6.2 Bar)
Air Consumption Idle cfm (l/s)
11 (5.2) - 18 (8.49)
Air Consumption Working Flow (l/s)
14 (6.60) - 40 (18.89)
Sound Level
Less Than 78 dBA
Max Shank Capacity
ER 11 - 1/4" (6mm)
Spindle Weight
118.4 oz (3.34 kg)
How do I change the speed?
Our patent-pending system makes it very easy to change speed and power rating in a minute with our patented double turbine. A hex key fits through the air shaft at the back of the spindle. The flow control screw is turned up or down by the hex key to switch speeds, as displayed below in the red and green positions below.
Single Turbine Mode Shown
Click to Change Speeds
| | | |
| --- | --- | --- |
| 650XVS | Single Turbine Mode | Double Turbine Mode |
| Position in Diagram | Green | Red |
| Power Rating | 0.8 hp (0.60 kW) | 1.4 hp (1.04 kW) |
| Speed | 25,000 RPM | 40,000 RPM |
650XVSHSK-A80 Dimensions
| | |
| --- | --- |
| A | 0.87" (22mm) |
| B | 3.23" (82mm) |
| C | 7.60" (193mm) |
| D | 9.06" (230mm) |
Equipment
Included Equipment
►
Combo filter extractor (p/n #30084)
►
Plug (for alternate air inlet not in use)
Standard Equipment
ER 11 collet system (1/4" or 6mm collet standard – other sizes optional). 3/4" or 20mm shank standard (Metric Shank comes with metric collet, Inch Shank with inch collet). Oil-free 90 psi / 6.2 bar, clean, dry air supply required.
| Accessories Models | Part # |
| --- | --- |
| High Flow Filter / Regulator / Extractor with 1/2" NPT | 30084 |
| Tube 16mm O.D. - 10mm I.D. (order by foot) | 16516 |
| Hose & Fitting - 16mm O.D. - 10mm I.D. - 12' | 30047 |
We retrofit any CNC machine to mill at a constant high speed 24/7 – so any CNC can be a high-speed machine. This includes, but isn't limited to DMG MORI, Haas, Fanuc Robodrill, Doosan, Hermle, Hurco, GROB, Brother Okuma, Makino and Mazak. Easy installation using selectable air feed inlets – choose side inlet NPT / Stop Block or center through shank/tool holder air feed. HSK, CAT, BT, and DIN Toolholder options are available. Learn more about Air Turbine Spindles on your CNC Machine by visiting their page at the links below.
Automatically Tool Change on your CNC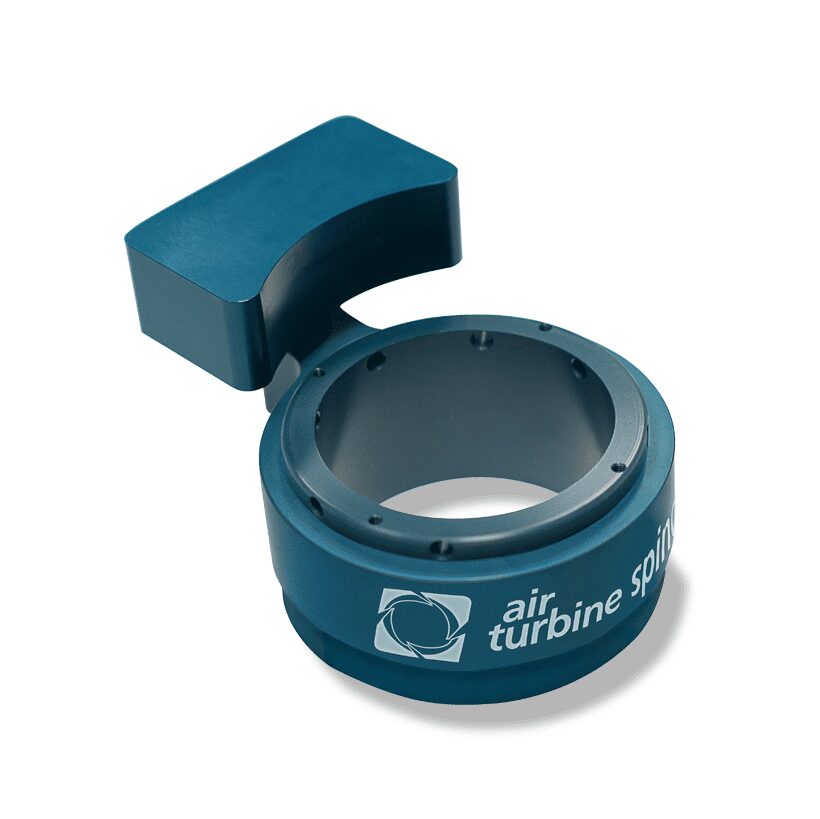 Automatically load Air Turbine Spindles® in CNC machines with our patented wrap-around Toolchanger Mounting Assembly (TMA). This option allows CNC tool-changers to automatically load/unload our family of high-speed precision spindles using a proprietary collar system and mounting block or ring around the CNC spindle integrated to the right side of the CNC spindle in minutes.
For machines that have an air blast line or coolant channel that can be used to supply sufficient CFM / L/s airflow volume;  Air Turbine Spindles can tool change without the Toolchanger Mounting Assembly. All HSK spindles can be used with center air feed if air supply line has sufficient ID.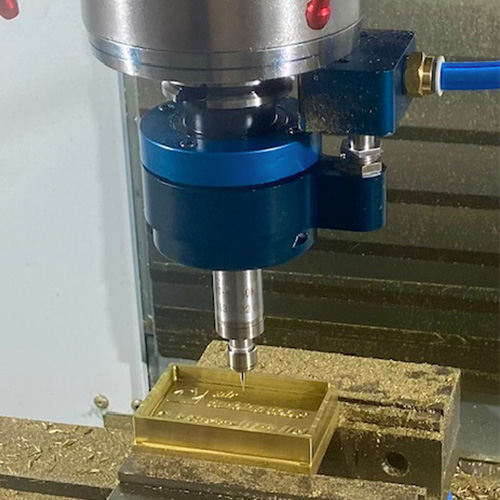 Screw In Mounting Block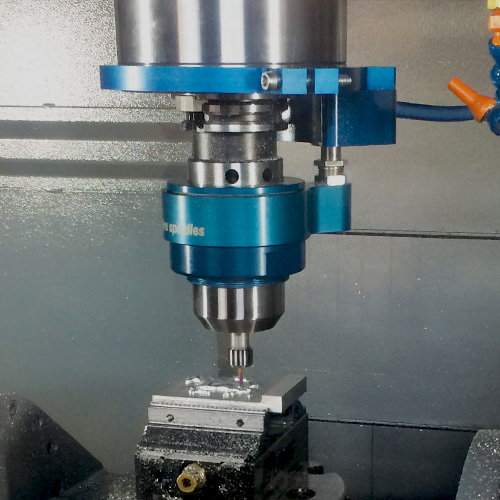 Two Piece Ring and Block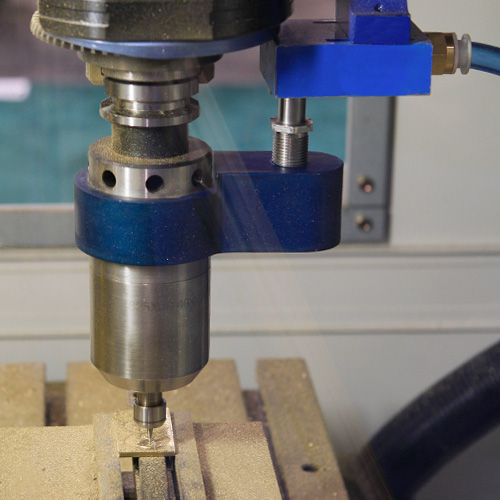 Drill Tap
Mounting blocks or rings compatible with Haas, Hurco, Doosan, Robodrill, Hardinge, DMG, Brother, Okuma, and all other CNC's are available. We are accustomed to developing custom solutions for any CNC. A Universal Block can be provided for drilling your CNC screw positions. Installation Kits are available. The TMA block remains on the CNC spindle for normal tool changes, even if not using the Air Turbine Spindles™ as it will not interfere when using the main spindle.
TMA Assembly Includes
 Mounting block or ring assembly
Spindle manifold collar with adjustable height connector to block
Auto Tool Change your Air Turbine Spindle® with Through Spindle Air
Auto Tool Change your Air Turbine Spindle® with the Tool Changer Mounting Assembly
| ER11- 1/4" | ER11- 6mm |
| --- | --- |
| Part # | Part # |
| 66104 | 66105 |
Videos
Change Speed and Power in a Moment on your CNC Spindle
50,000 RPM CNC Spindle Creates the Perfect Chocolate Mold at HAAS Allendale
Watch Chips Fly with this Air Turbine Tools® CNC Milling Spindle
40,000 RPM CNC Spindle Milling Aluminum on DMC125 U DuoBlock
CNC Milling Spindle Runs at 1850 mm/min with 40,000 RPM
CNC Spindle Milling and Drilling Aluminum at 40,000 rpm on Mikron CNC
Service & Support
Support is always available from our technical team in the USA, Germany and Mexico. Repair Service is available in Florida and Munich.
Call our factory technicians at +1-561-994-0500 or email us at [email protected].